IS ARTIFICIAL INTELLIGENCE CAPABLE OF TRANSFORMING PEOPLE'S LIVES?
LINK WITH THE ENVIRONMENT
Our team is dedicated to spreading knowledge and sparking curiosity about the potential of AI. We believe that by fostering understanding and curiosity, we can empower people to harness the power of AI for positive change. Our work is driven by the belief that everyone should have the opportunity to understand and participate in the AI revolution.
LEARN ABOUT SOME OF OUR INITIATIVES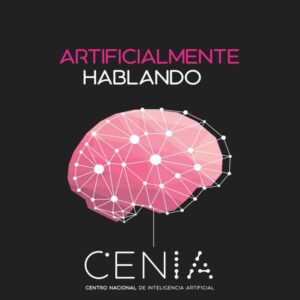 Podcast : "Artificialmente hablando"
Hand in hand with the National Center for Artificial Intelligence, we venture to know the present and future of the exciting world of AI. We will explore the applications that are revolutionizing the industry and many other spaces of our society. In addition, we will delve into the new developments and exciting trends that are shaping the future.
LEARN MORE ABOUT OUR OUTREACH ACTIVITIES
Academia DesafIAntes
Taller de comunicación de la ciencia
Felipe Torres – Congreso Nacional Explora
Noche Cenia ¿Existe una IA sintiente?